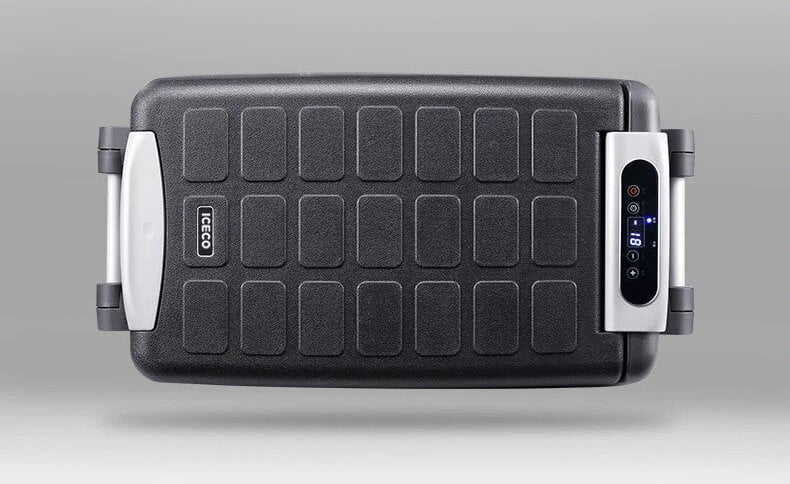 So you are going on a vacation on a weekend and would like to accompany healthy home-made food and refrigerated beverage with you. Need to enjoy cold beverage as you enjoy your trip. Going on a camping adventure with family and need fresh food with you. You may not believe how effectively a portable refrigerator will make all of this possible for you and make your travel much better and enjoyable.
Portable refrigerator, as the name suggests, is a type of refrigerator that is specifically designed to be conveniently carried along with you as you travel. It will allow cooling of food as you travel in your car/RV or at a remote location that is off-grid like a cabin in woods.
Portable refrigerators are compatible with 12V DC that can be delivered by a battery. The battery may be charged by the car engine i.e. using the same battery that you use in your car. You can also plug them directly into a standard AC source.
However if the ambient temperature is particularly warmer or you have a lot of food and beverage to be cooled you may use an external battery. This prevent high energy drainage from the battery. In that case you will have to use a portable generator or solar panels.
Best Shortlisted Portable Refrigerators
ICECO JP40 Portable Refrigerator
My top choice. 40 liter capacity portable refrigerator that has German SECOP Compressor with 5 years compressor warranty. It has multiple modes allowing compressor speed to vary hence increasing operational efficiency. it also comes in 30 and 50 liter versions.
Alpicool C20 Portable Refrigerator
The next selected choice. A comparatively low priced but quality option with more than 20 liters capacity. It has varying options up to 58 quarts. It has 3 power modes to protect your vehicle's battery.
YITAMOTOR Mini Fridge 10 Liter Compact Portable Personal Cooler
My top choice amongst thermoelectric cooler. Comparatively much higher capacity than other coolers. Able to cool (32°F below room temperature) and heat (up to 140°F). Generating sound barely noticeable close to 25db. Also great for medication and skincare products.
Why I Recommend ICECO JP40 Portable Refrigerator
ICECO JP40 is my top recommended portable refrigerator. There are many quality portable refrigerators available in the market and it's hard to choose the best one. The reason I selected this among them as my top recommendation is due to better foundational features that are essential in a portable refrigerator, specifically compressor and durability.
It has high quality Germany SECOP Compressor installed in it that comes with 5 year warranty. It is the compressor that is the main moving component in a refrigerator and that is more likely to dissipate with time.
The refrigerator has two power modes i.e. MAX mode and ECO mode. ECO mode allows compressor speed to slow down as the desired temperature is achieved. Thereby improving the operation efficiency and ultimately reducing power usage. MAX mode will allow quick cooldown by switching compressor to full throttle to quickly gain desired temperature and cool your food effectively.
It is able to achieve temperature as low as -7 degree F (-22 degree C). The compressor intermittently turns off and on to conserve energy during the operation.
As a portable refrigerator it is obviously compatible with 12 volts car battery. However if you wish you can also use an AC power source.
A problem you can run during travel is preventing the operation of refrigerator or hurting it when on a bumpy road. However ICECO assures good performance of their product under 40 degrees slope making it easily operable on a dumpy road.
Another great additional feature that I saw was a LED light inside the refrigerator. In refrigerators at home it is not so special feature. But for portable refrigerators there are many products that lack this feature. This is great for viewing contents in the nights during camping. it also has a removable basket to organize ingredient conveniently and extract them easily.
Compressor-Based Portable Refrigerator vs Thermoelectric Cooler
There are actually different types of appliances available in the market for portable refrigeration. The type that you use depends on the duration you require to keep your food stored and and the ambient temperature against which the refrigerator will work.
The most common are Compressor-Based Portable Refrigerators and Thermoelectric Cooler. Which one is suitable for you? You can decide by knowing how they operate, their capabilities and cons.
Compressor-Based Portable Refrigerator
These portable refrigerators actually operate the same way as the refrigerators at home.
It is the best option to go for if you have to store food for several days and the ambient temperature is higher than 25 degree Celsius.
You can conveniently store the food at the desired temperature in high quantities. However the more the quantity of food and ambient temperature, the harder the refrigerator will work. This will require compressor to stay on for longer interval of time hence higher consumption of energy.
Having the control over temperature is a convenient feature in these refrigerators. It allows food/ beverage to be stored at the temperature you like. It is important to highlight it as this feature is not available in most of the thermoelectric coolers.
Another factor is the noise the compressor-based portable refrigerator generates. The noise generated by it is more than thermoelectric cooler. However in many quality newer portable refrigerators it is lower.
Further it will make the highest noise when you turn it on, that is the same the refrigerator at home generates. This is due to the fact that compressor works at maximum capacity when the operation of refrigeration is initiated. However with time as the desired temperature is maintained inside the refrigerator compressor working reduces and the noise reduces with it.
Thermoelectric Cooler
If you want to store your food in smaller capacity at temperature upto about 40 degrees Fahrenheit below ambient temperature then you thermoelectric cooler is a viable option for you.
They generate less noise compared to compressor-based refrigerators due to no moving parts. However unlike compressor-based refrigerators, thermoelectric cooler operate consistently and they do not turn off.
They consume more energy compared to compressor-based portable refrigerators. Most of thermoelectric coolers consumer 3-5 amps of electric current at 12 volts. This is multiple times the energy consumed by a compressor-based refrigerator.
In most of the thermoelectric cooler available in the market you cannot control the temperature. This is because they are differential coolers and reduce the temperature a definite amount compared to ambient temperature.
One impressive feature though in them is their ability to cool and warm. This means that they can be used to store food at warm temperature while you travel for some time in the day. But of course just like limitations in cooling there are limitations how much warming you can achieve in these coolers.
The energy consumed by thermoelectric coolers is highly dependent on the ambient temperature. In fact in hot weather it will consume a lot of energy as the desired temperature drop is never achieved. The compressor-based refrigerators are very efficient in comparison to them in hot weather.
Thermoelectric cooler are much inexpensive compared to compressor-based portable refrigerator. However this reduction in money comes at an expense of limitations. You should go for it only when you know that the food or beverage has to be stored for a portion of the day and ambient temperature is not far away from the desired food temperature.
What Matters in A Portable Refrigerator?
Whenever you decide to buy a portable refrigerator you should keep certain things in your mind. Marketing material attracts a person to buy product based on additional features and what you get with it.
But if the foundational features and basic attributes like cooling ability, refrigerator operational efficiency, durability, inclined operation etc. required in a portable refrigerator are not up to mark it doesn't matter with additional features.
Below are the most important characteristics to look for in a portable refrigerator before you buy one:
Portable Refrigerator Cooling Effectiveness
The most important point to be taken into consideration before buying a portable refrigerator is to make sure that despite all the features it comes will it effectively cool the contents inside.
If the refrigerator, despite its big size, is not able to cool food and beverage inside it then it is useless.
Sometimes portable refrigerator has different zones formed in it with high difference in temperatures. This will deteriorate the content inside. So go for the product with homogenous and effective cooling.
Battery Power Consumption and Operational Efficiency
The purpose you buy a portable refrigerator is to effectively transport it. So of course you are expecting it to run on a 12 V battery.
However the refrigerator should be efficient to conserve energy. As the desired cool temperature is being achieved by compressor, it should change power states to reduce power intake.
If the refrigerator drains all the battery you will have inconvenience travelling. However most of the new portable refrigerator stop the refrigeration if the battery energy is lowering a certain point.
If it is not efficient enough you will have to use an additional power source like portable generator or solar panel. That would increase the cost of setup and make it less convenient.
Durability and Quality of Components
You have spent your valuable money on the product. Now you want it to run for long durations of time without breaking down. It should have the ability to sustain dumpy roads and slopes.
Compressor is the major moving component in the refrigerator. Your compressor is probably the first thing to be affected on an inclined or bumpy road. Hence you should have a durable compressor. ICECO provides 5 years compressor warranty with the product I recommended to you.
Also look for a durable and long-lasting external and internal casing in your portable refrigerator.
Size/Capacity of Portable Refrigerator
Size that you chose for the product is important too. Look for the capacity (in liters or quarts) that is best suited for quantity of your products.
For example if you goal is to keep cool your skin products and/or medication a 4 liter thermoelectric cooler might be enough for you. However of you are planning a several-days summer trip, you will have to consider a 40-liter or above compressor-based portable refrigerator.
AC/DC Power Source Compatibility
You expect a portable refrigerator to run on a 12 volts battery. After all traveling is the reason you mainly bought it for.
However also look for its compatibility to run on AC power source.
This is a useful feature as you will get rid of direct battery connections in places where you might have AC power source available like an RV or a boat.
Noise Intensity and Duration
After the foundational feature also consider the noise factor when buying a portable refrigerator. In general compressor generates more sound compared to a thermoelectric refrigerator.
Try to go for the one with minimal sound. However newer models generally have reduced sound and it diminishes when the desired temperature is maintained.
Who Needs A Portable Refrigerator?
Considering the need and requirement, you can use a portable refrigerator wherever you deem necessary. It is not necessary that you have to use them only when you are travelling. You may use it to keep your skincare products cool. Or you may use it in your garage for keeping your beverage cold.
However I have given some of the most common applications portable refrigerators are used for:
Road-Trip Vacation
When travelling on road for long distances it is not healthy for you to eat your meals in restaurant. It is a good idea to take fresh food and beverage with you. Especially when you are travelling to places with very little population in order to experience nature.
Boating
At sea it is impossible for you to get your desired food or in fact any food instantly. A high capacity portable refrigerator would do wonders in resolving the problems of food and beverages while you boat.
Camping
Generally people go for camping for several days. You can even set up a portable generator or solar panel and enjoy cool beverages and healthy food if the vehicle's battery is not enough.
Trucking
Truckers have to drive for major portion of the day especially during night. A research revealed that they have very limited opportunities for healthy food and eating choices. A portable refrigerator could also help resolve that problem to an extent.
Note: The recommended products on this page are continuously changed depending on the products available in the market. The purpose of this page is to keep you updated with the best portable refrigerators currently.