Last Updated on February 4, 2023
Imagine being in your bed, reading a book you like, and planning to sleep to it. It starts to rain making you feel cozy and relaxed. But then you are interrupted by annoying ping metallic noises of raindrops hitting on top of your window AC. As a person sensitive to sounds, this is a total deal breaker for me.
If this goes for you too, you are not alone in finding solutions to these annoying noises of raindrops hitting your window AC.
I have spent a surprisingly long time putting up this article. Part of the reason is that there are so many ideas available on the internet for this problem. However, among them, many are ineffective and may damage your AC in the long run.
So I decided to compile simple, effective, and problem-free fixes to eliminate this annoyance.
I made sure to take the following precautions in my techniques and so should you:
Window AC's

air vents should not be blocked

to prevent overheating of the unit.

Prevent water retention

on and around the unit to prevent rust and mold.
I have included solutions for the following scenarios:
Ping noises by rain

hitting your window AC.
Noise from

rain droplets on neighboring AC

units close to your window.

Water leaking from gutters

striking your window AC unit.
Noise from

condensation dripping from other ACs

on top of yours.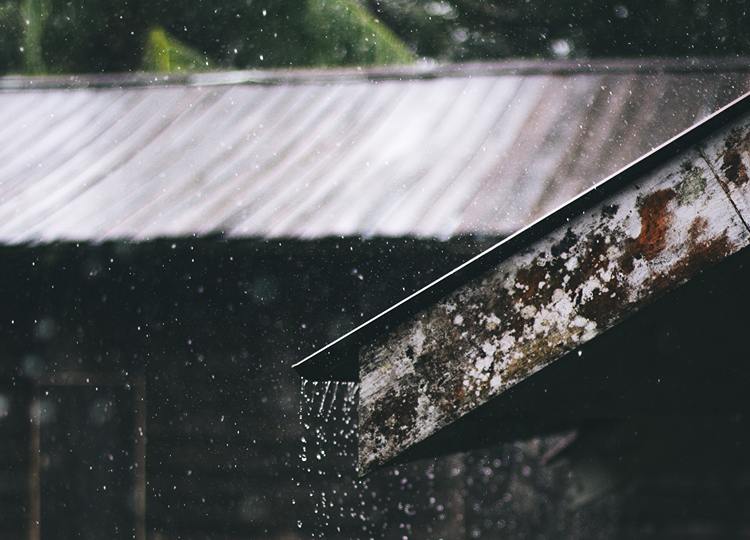 1. Using a Polyurethane AC Drip Cushion
This is one of the most suitable, effective, and quick solution for damping those ping sounds from raindrops on your window AC. It works well for similar sounds too, like condensation drops falling on your window AC.
You could get your own polyurethane sheet, size it for your unit, and make it stick on top of your unit.
However, I recommended using a polyurethane cushion specifically designed for window ACs. Here's a quick link to the specifications of my recommendation.
Using a drip cushion, specifically, the one that I selected, will benefit you in 3 ways:
It has a heavy-duty sponge on top that

mutes the sound of rain

hitting your window AC.
This one has a

magnetic back

, this way you won't have to glue it to your AC unit. This will save your window AC from permanent change and help you replace the sheet whenever needed.
Its

dimensions are very close to that of a window AC

because it is designed for it. Just a little trimming is required and then you have to simply place it on top of your window unit.
Pro Tip: In window AC drip cushions, after material quality, look for a strong magnetic back that could stick to the top and retain in storms and strong winds.
By the way, I took care of that in my selection above.
2. Install Slanted Plywood Awning
Another interesting and aesthetic way to get rid of those ping noises is to install a plywood awning.
if you are a little into woodwork, it is easy and simple and could be a fun project for you.
However, if you are anything like me, you can get it designed by a carpenter. A wooden awning will deaden those annoying ping noises on your window AC by rain or condensation dripping from other units above it.
After paint and some finishing, it will also add to the beauty of your window.
Want a quicker and more modern option?
I came across these predesigned polycarbonate awnings the other day.
To save you time, I researched and selected one for you. It also provides UV protection, with the original purpose you plan to use it for i.e., deadening ping noises.
The frame and components are corrosion-free to protect against corrosion by constant exposure to water. Feel free to give a look at my selection above.
3. Use a Water-Resistant Neoprene Sheet
If you go with covering the top of your window AC to deaden ping noises, whether they be from rain, condensation dropping from other units, or leaking gutters, my first preference is a polyurethane sheet.
However, when it comes to noise from water falling on window AC, it is sometimes more useful to use a neoprene sheet.
The reason for that is its better waterproofing ability. It will have zero absorption of water and deaden the sound at the same time.
When is Neoprene Sheet a Better Option for Deadening Water Noise On AC?
As I said earlier, despite the rain, I have included water falling on your window AC from other sources in the scope of this article.
One such scenario is your building having leaking gutters.
The volume of leaking water hitting your AC in this case may be much higher, so a waterproof material with zero water absorption, like neoprene, is a more practical option.
Further, with noise damping, neoprene covering on top will also protect your AC unit's internal components. Here's a link to most suitable one, with respect to dimensions of your window AC.
4. Soundproof Your Windows
One way to tackle those ping noises from raindrops is to soundproof your windows. This will serve you in the following ways:
Block noise from rain and condensation hitting the AC metal frame.
Block unnecessary noises from outside.
Reduce noise from window AC internal components.
Increase its cooling performance.
Here's what I would do. I would soundproof my unit to the extent that I can, then couple it with additional strategies mentioned in this article, like covering the top of the window unit with a polyurethane sheet.
The eventual result will be the blocking of noises from the outside as well as ping noises that could be from rain, condensation from other units, or faulty gutters.
Soundproofing windows is easy. There are a bunch of different ways you could soundproof a window while window AC is attached to it.
Way 1: Get an Acrylic Frame for Your Window AC
You could have an acrylic insert-cut window frame made for fitting AC in the window. As it would be custom-made, depending on the size and type of window and AC, you can get rubber tubing attached on its inner and outer sides.
This tubing on either side of the frame will support the sides of your window AC, as well as tightly seal gaps to block most of the noise from outside.
This noise may be due to rain on the metallic surface of the window AC, condensation dropping on it from units above, water from leaking gutters, or from the street.
Way 2: Use a Combination of Individual Soundproofing Products (Easier)
The second way to soundproof a window, that has window AC installed in it, is to get accurate products that could be applied to block as much rain ping noise and other noises as possible.
An effective and value-for-money way to do that is to use an insulating panel coupled with AC insulating weather stripping.
I have already selected the most well-performing and economical insulating panel to save you time. Attach this insulating panel on the side gaps of your AC. This will not only block noise but also prevent heat escape. Give a look at my recommended foam insulating panel.
Using an insulating panel will seal the sides but not the gaps on the top and bottom of the window AC. These gaps could still leak sound and air.
There is a solution to that. Use this super sticky insulating tape that I have selected for you to seal gaps on top and bottom.
There is a non-sticky version of this tape too. I however find this one more practical and convenient, as it is sticky and allows you to select the dimensions you need. If you see any other gaps or untight closures, you can apply this insulating tape there too.
5. Use White Noise to Numb Ping Noises
One way to block yourself from the constant disturbance of raindrop ping sounds is to use white noise.
The idea is to numb that rain noise on metal with a consistent healthy noise.
White noise itself could serve meditative purposes and reduce anxiety and stress. I personally have used it for mediation for a long time.
Further, this quick solution won't require you to invest much. There are white noise generators available in the market that are perfect for this job. Here's my recommendation if you are interested. However, I think your speakers would be OK too.
This technique is especially helpful if you don't have much control over a situation like water or rain dripping on a neighboring window AC unit.
Alternatively, you could request them to use a drip cushion. But in apartments where windows are close to each other not everybody may respect your wishes.
Personal Advice: Try not listening to white noise for extended periods of time. Taking a nap or studying for a while would be OK though.
Also, I would not recommend listening to it for a very long time at a high volume. Not that I have faced any problems, but some newer studies suggest its effects on sleep at this level.
Side Benefits: Studies indicate that 45dB of white noise improved sustained attention and creativity and did not increase stress. This could be useful for study and work.
6. Soundproof your Ears!
The final and the most readily applicable way to block rain noise on window AC, or any noise for that matter, is to soundproof your ears.
Yes, cover your ears. I get it. You are just reading this article, got work to do, and don't have time to make modifications to the window or apply any strategy that will consume your time. For now, you need a temporary solution that could get you through the night.
Well, I came across a solution, that has worked for many people. Try these noise-canceling earplugs. They are very effective in blocking noise.
My concern was if they are flexible enough for side sleepers like me and don't hurt when worn for a long time.
Thankfully, they are very comfortable for sleeping. Moreover, they are reusable, and washable and come with two-sized earbuds for people with different ear canal sizes.
What Could Go Wrong? Be Mindful in These Techniques
I have been very careful in compiling these techniques. There are so many ideas available on the internet that are not only less effective and less efficient, but more importantly, could be detrimental to you, your window AC and your home's construction.
I recommend primarily using the ways I have mentioned in this article, I have thought them out for possible problems.
However, whether you happen to use ways mentioned in this article for damping rain noises, or use your own methods, be mindful and careful of the following:
Make Sure Window AC Air Vents Are Not Blocked
Blocking cool air from your window unit will cause cooling coils to freeze. At this point, your unit will stop working until the ice melts from the coils. Till that happens, the cooling operation will be halted.
Blocking hot air from condenser coils (air that is given off from the back), would cause your unit to overheat and severely reduce its cooling effectiveness. This will reduce the life of your AC and may cause damage.
Therefore, be mindful of the inlet and outlet vents of your window unit.
Whichever strategy you use to block rain or condensation sound on the metallic case of your AC, make sure you are not blocking air coming out or going into your AC unit.
Water Should Not Retain in Gaps, Spaces and Holes
Whatever way you use to eliminate the noise from water droplets, make sure it doesn't involve trapping water in any spaces.
Water should not retain in spaces and gaps on the body of your window AC, inside it, or part of the window.
if you are helpless and there is no way around it, at least remove water after regular intervals like every other day depending on the time it runs.
There is a reason why I worry about it.
It is my personal experience that wherever water stays for extended periods of time, it will eventually lead to mold and mildew.
With time it will spread. Like if water remains somewhere on the window, it will spread to the frame, sill, and boundaries and even affect connected portions of the wall.
This was one of the reasons I recommended neoprene sheets in some cases. If the flow rate of water leaking from gutters is very high, a neoprene sheet will offer better water resistance.
Try Not Gluing Stuff to Your Window AC
There are two reasons why I advise against gluing stuff on your window AC, or any side of it for that matter.
First, there is a possibility of air vents there. Normally, if you happen to make a mistake in covering some vents, you could always uncover them.
This, however, will close the door to restoring those vents. Even if you peel the covering off by force, it would be at the cost of damaging your window AC.
Second, the presentation aspect could be affected permanently (especially with less aesthetically pleasing options).
If I have to mute the rain noises, or those from condensation dropping from the unit(s) above, or the leaking gutters, I would use a technique after which I could restore my window AC unit to its original form.